Only $62 (plus shipping) for ALL of the below --

To celebrate my 62nd birthday, I have 62 boxes stuffed with hundreds of dollars of gifts that I'll send to the first 62 people to reply for only $62 (plus shipping).

I'm not making a profit. This is to celebrate the fast action takers on my list. Even if you already have an item or two in the big box, you can forward these on as gifts!

Each box is worth over $400! (I'm actually losing money on each box, but I'm offering it as a just-cover-my costs gift to celebrate my birthday).

Each box is guaranteed to delight you as well as give you items you could pass along as gifts to others. (So if you already have something in the box, just gift it to someone.)

This special birthday bash blow-out is good until all 62 boxes are gone (which could be before you finish reading this) or I change my mind.

Here's what's inside --
---
The Awakening Course CDs

Sells for $89.95
Here's just a sample of what you will learn in the first five presentations of The Awakening Course...
What it means to be awakened and why it's so important:
How you can create your own awakened life filled with miracles
The steps to get out of the victim mentality
Ways to turn your fears into catalysts for success
How to move beyond ego
5 steps for attracting anything or anyone into your life
The missing secret for making the Law of Attraction work every time
How the universe works (the real truth)
Cleaning and clearing methods allowing miracles
New perspectives on money, role models, and the power of your unconscious
How to re-state complaints into positive life-changing intentions
The role gratitude plays in attracting what you want in your life
How to co-create with the Divine
A rare ancient method you can use to clean blocks
How to prepare yourself to become awakened...

...and more!
---
Zero Limits Book

Sells for $11.60
This book is the most powerful one ever written. It explains the true story of the unusual therapist who helped heal an entire ward of mentally ill criminals -- without seeing any of them.
The book reveals his method. It reveals the true cause for everything that happens to you, and how to "clean" the negativity so you can re-connect with the Divine.
---
Instant Manifestation Book

Sells for $28.47
Whether you've struggled with manifesting what you want, or have been pretty good at it so far, I have good news—
You can now learn the real secret to making the Law of Attraction work for you better and faster than ever, revealed by one of the acknowledged experts on the subject.
Dr. Joe Vitale's latest book contains secrets and stories, insights and techniques that will transform your life.
They helped him rise from poverty to a life of the rich and famous.
This amazing book reveals such topics as:
How to Attract Anything
The Sole Purpose of Money
What to Do When LOA Doesn't Work
Remembering Your Future Past
How to Handle Disappointment
The Red Flags Theory
Scientific Evidence for LOA
The Secret to Attracting Results
The Woman Who Sang Past Fear
Law of Attraction Mistakes
Masterminding with Mark Twain
Attract $175,000 Today
—and more!
---
The Seven Lost Secrets of Success Book

Sells for $24.95
Praise for The Seven Lost Secrets of Success:
---
"Buy this book, apply these secrets, and your prosperity will be assured."

-Dan McComas, President, Dan McComas Associates,
Marketing & Management Consultants
---
"This breakthrough book, based on the ideas of a forgotten genius, will help smart marketers increase their effectiveness a minimum of fivefold."

-Bruce David, publisher of Starting Smart
---
"The principles are sound and sensible and guaranteed to help any businessperson make more money. Since 99.9 percent of businesses don't use them, anyone putting the seven lost secrets to work will gain an unbelievable edge over the competition."

-Bob Bly, author of eighteen business books, including Selling
Your Services
---
"One of the most revealing works ever-I literally couldn't put it down. There are life and business success lessons in each chapter."

-Jim Chandler, President, VistaTron
---
"Barton was the messiah of business who helped America pull out of the Great Depression. Now he can help all of us survive the current recession."

-Scott Hammaker, CEO, Nashville Party Connection
---
"An excellent guide to better advertising, better promotions, and better marketing. My copywriting abilities and creative strategies have been strengthened and broadened. I'm awed and inspired."

-Tina Nokes, owner, A-Plus Resume Service
---
"A passionate book on the timeless, inspiring, perceptive, forceful, and sincere ideas of Bruce Barton-a man nobody really knew, a genius lost in history."

-Jim King, CPA, Houston
---
"These proven principles are the foundation upon which to build a prosperous enterprise."

-Mark Weisser, CEO, Gulf Coast Security Systems
---
Afflatus CD

Sells for $19.95
A love letter to the Divine
My debut saxophone album!
I still remember the first day in the studio with Daniel Barrett.
As he set up the mike, and I put together the mouthpiece and reed on my baritone sax, he looked at me and said, "On one level this is an insane thing to do, but let's do it and see what occurs."
The result?
Magic.
I played the baritone, tenor, and alto saxophones.
Daniel mixed the music and added some tasty sounds.
I wrote and recorded some hypnotic odes, or prayers.
We ended up with ten tracks – the first five with the poems at an audible level, and the second five with the prayers at a subliminal, or below conscious, level.
I decided to call the album Afflatus, which means, "sudden Divine inspiration."
And the album is done.
The miracle is complete.
When Mark Hallman, who mastered the album, heard it, he said, "This is the best music you've recorded yet. A masterpiece."
When Mathew Dixon, my partner on several albums, heard it, he said, "It sounds fantastic! I just finished listening and it sounds incredible!"
"It's mesmerizing!" - Lori Anderson
I'm about as proud as any musician could be.
---
Attract Money Now DVD

Sells for $199.00
This FREE DVD is a fiery presentation by me on how to attract money NOW! Here are a handful of topics discussed on the DVD.
How to conquer key hidden beliefs that are pushing money away from you
How to use the proven "tapping" technique to get cash flowing fast
One of the best-kept secrets of the wealthy for attracting money easily
How the rich think differently than you regarding money
A brand new secret for spending in a way that leads to attracting money
...and more!
---
Hypnotic Gold Issue

Sells for $39.00
Perhaps you've enjoyed success, but you just can't get your business to the next level. Try as you will, there's something missing. What's holding you back?
You're making money … earning a living … but you know deep down in your bones you could be doing so much more – and you feel like you're right there – scratching at the door that never opens.
Could it be, you are on the verge of a BREAKTHROUGH?! What will it take for you to burst mightily through that door to YOUR wealthy place of "wonderful things" and unparalleled success?!
Could the answer be sitting behind THIS door …
For a limited time – a VERY LIMITED TIME – you can get part of this amazing, life-changing collection; part of my secret archives of Hypnotic Gold, one of over 90 recordings, the newsletter and moneymaking special report.
All part of this Birthday Bash!
---
Attract Money Now Hardcover Book

Sells for $29.95
Attract Money Now... The Hardcover Version reveals an easy, proven, 7-step formula you can use today to begin attracting money, getting out of debt, and ending the struggle once and for all.
In the pages of this fast-reading, inspiring book, Dr. Joe Vitale -- bestselling author and star of the hit movie The Secret -- walks you through his easy system for attracting money using the Law of Attraction and Law of Right Action.
---
A special Bonus DVD of

The Secret

Sells for $9.99
In 2006, I was featured in Rhonda Byrne's mega-hit movie, The Secret. This film has changed the lives of millions of people around the world and shows you how you can activate the law of attraction in your life and manifest such desires as abundance, love, joy, health...and so much more!
---
Reflection CD

Sells for $21.95
"What an amazing new CD you've created.
It has shades of David Byrne and Brian Eno, to me, which I'm wondering if it was intentional because Eno was quoted in the beautifully produced CD booklet.
The powerful lyrics and modern jazzy-inspired melodies blew me away.
Love, Believe and Merlin are great, but the song Remember was phenomenal! I've never heard positive affirmations to music like that. Wow! Wow! Wow!
And what about the song Do? Good grief. Rock monster with nothing but empowering lyrics. We all need to play this on a loop when we want to get - and stay - motivated.
I do believe you have created a new genre of music.
You have truly outdone yourself on this one."
Victoria Belue Schaefer
Pedal Ranch Publications
---
Strut CD

Sells for $12.99
Strut! features the other Joe Vitale, the world famous drummer who's played with Joe Walsh, Dan Fogelberg, Neil Young, Linda Ronstadt, Stephen Stills, John Fogerty, Crosby, Stills, Nash and Young, Peter Frampton, Jackson Browne, Bonnie Raitt, Beach Boys, Eagles and more! For the first time ever, Joe Vitale meets Joe Vitale!
Strut! also features Glenn Fukunaga on bass. Glenn just completed a tour with legendary singer Robert Plant of Band of Joy and Led Zeppelin.
This album contains the powerful ho'oponopono song 'Got a Problem?'
---
Sun Will Rise CD

Sells for $12.99
You may know Joe from The Secret DVD, or any of his over 30 bestselling books, such as The Attractor Factor, Zero Limits and There's a Customer Born Every Minute. You may have heard one of his popular audio programs from Nightingale-Conant, like the Power of Outrageous Marketing and The Missing Secret.
But did you know …
At the time this album was released, he was already an accomplished musician with five titles to his name, including two previous singer/songwriter albums.
Today he already has ten albums to his name!
Joe's previous offering, Sun Will Rise is an emotional journey through the ranges and depths of one's soul. You'll have a blast with FUN songs like You Gotta and Train of Women - be haunted by the eerily familiar musings of The Secret, tortured by the angst-filled vulnerability of a love song with Ti Amo, and brought to your feet by rousing toe-tapping pure musical excitement making up the rockabilly treat, Sperichil!
With Joe's special brand of fun healing music with a message, you get a dimension to your listening experience NOT FOUND on the CDs of contemporary artists.
Sun Will Rise is a feast of experiences you won't soon forget - unlike the prepackaged sound-alike clones of today – fading into oblivion …
---
The Healing Song CD

Sells for $12.95
Imagine being able to communicate without speaking, through the healing energy of music. I've found a group of people that not only understand the power of music, but know how to capture it for you.
This album contains the very moving Healing Song title track with Joe speaking a hypnotic healing poem and Grammy winner David Darling on cello.
---
Fit-a-Rita

Sells for $9.95
(Austin, Texas) Fit-a-Rita™ is the first sugar-free, instant margarita mix with added minerals, vitamins and herbal extracts designed to buffer the toxic effects of alcohol. The average margarita has over 200 calories. A Fit-a-Rita™ margarita has just 6 calories. No sugar. No carbs. And it contains as much anti-oxidants as two glasses of red wine.
"This is the first alcoholic drink mix designed for the health-conscious customer," says Jeff Sargent, product formulator for Frontier Nutritional Research.
The mix was born when Joe Vitale, a star in the hit movie The Secret, wanted a margarita but realized with 200 to 600 calories in the average one, that they wouldn't help him lose any weight. He jokingly said he wanted a "Bodybuilder's Margarita."
He went to Marcus Gitterle, M.D., a product creator, and Jeff Sargent, a former health food store owner, and asked them to create a margarita mix with no sugar. "I wanted a healthy margarita," Vitale, 53, said. "I suspected they could sweeten it with a natural herb."
Frontier Nutritional Research designed Fit-a-Rita™ to appeal to the market segment that appreciates a tasty margarita but would rather avoid the sugar, calories and of course, the hangover. Just add one packet of Fit-A-Rita™ to 6 oz of water, add one shot of your favorite Tequila, and mix. "It contains as much anti-oxidants as two glasses of red wine," says Dr. Gitterle.
The result is Fit-a-Rita™, which hit the market today at www.fit-a-rita.com and is already signed into Latin area distribution.
---
That's over $400 worth of cool holiday presents for your friends and family...and you!
All for only $62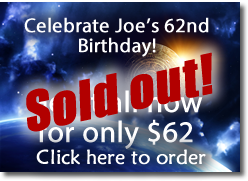 Just imagine...14 gifts for $62! Delivered to your front door.
Fit-a-Rita - sells for $9.95
Strut CD -- Sells for $12.99
Sun Will Rise CD -- Sells for $12.99
The Healing Song CD -- Sells for $12.95
Afflatus -- Sells for $19.95
Reflection CD -- Sells for $21.95
DVD of "The Secret" -- Sells for $24.95
The Seven Lost Secrets of Success - Sells for $24.95
Zero Limits Book -- Sells for $27.98
Instant Manifestation -- Sells for $28.47
Attract Money Now hardcover -- Sells for $29.95
Special Issue of Hypnotic Gold - $39.00
The Awakening Course -- Sells for $89.95
Attract Money Now DVD -- Sells for $199.00
Over $400 worth of bestselling goodies! Get bundles for yourself and friends!
All for only $62
Plus shipping and handling.
Sold Out!

Due to the crazy low price of this rock bottom sale, there are no returns or exchanges, unless something was broken. All items are brand new. All sales are final. Sale ends the last day of 2015, or sooner if supplies run out, whichever comes first.
Love,
Dr. Joe Vitale
P.S. Happy Birthday to me - but you get the box of gifts! Think of how much all of this will cost when I turn 70! Are you going to be one of the people who are smart enough and fast enough to invest $62 for it?
Dr. Joe Vitale
www.MrFire.com
Member BBB 2003-
PS - For more information about Miracles Coaching®, please see http://www.MiraclesCoaching.com
Tell a friend and share this great site with others.
Dr. Joe Vitale, a star in the hit movie "The Secret," bestselling author of The Attractor Factor and Zero Limits, television guest star on Larry King Live and CNN, ABC, FOX, etc., is the world's first self-help singer songwriter.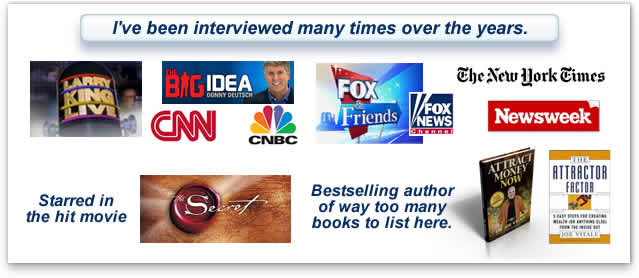 Media and Performance Requests Contact:
Email Joe's booking agent: Caroline@MrFire.com
or call 888-743-2824 opt 3
Services are provided by Acheive Today, Inc., which has been selected by Joe Vitale to provide education and guidance throughout your program.
© Copyright 2000 - Hypnotic Marketing, Inc., (All rights reserved)
Hypnotic Marketing, Inc., P.O. Box 2924 Wimberley, TX 78676-2924 - (888) 743-2824
Legal Disclaimer - Privacy Policy - Terms of Service

Customer Service: The Hypnotic Marketing Customer Care Center.
Give us a call at (888) 743-2824 option 2 or send us an email at Support@MrFire.com